The anniversary of the groundbreaking program falls on Second Chance Month.
RALEIGH, NC, March 22, 2022 – April marks the 30 year anniversary of the founding of Inmates to Entrepreneurs, a now-global program started by entrepreneur Brian Hamilton that provides free entrepreneurship training for people with criminal records. Hamilton started the program in April 1992 alongside Reverend Robert Harris when they visited Orange Correctional Institution in Hillsborough, North Carolina to give a talk about how to start a business. 
Today, the program is available in prisons in all 50 states and is the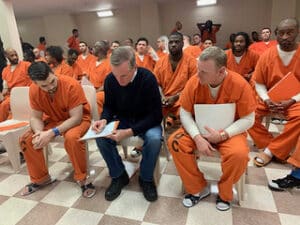 inspiration behind the hit national tv show Free Enterprise, which airs on ABC to a weekly audience of nearly a million viewers.
April is also Second Chance Month in the United States, an occasion used to raise awareness about the obstacles faced by the 70 million Americans with criminal records. Despite seeking employment at rates higher than the general population, formerly incarcerated individuals are half as likely to get a job because of their incarceration and face unemployment rates five times the national average.
"Our graduates have started landscaping businesses, catering services, painting companies and many others," said Brian Hamilton, founder of Inmates to Entrepreneurs and pioneer of the second chance entrepreneurship movement. "My perspective as an entrepreneur is that instead of getting a job, which is almost impossible with a criminal record, you can make your own. We're trying to get the free enterprise system to work for people who have been incarcerated because the second chance is an absolutely vital part of the fabric of the United States," Hamilton added. 
The program has helped thousands of entrepreneurs launch and grow their businesses. Inmates to Entrepreneurs graduates include: 
Inmates to Entrepreneurs makes business ownership attainable by teaching how to quickly start a service business with little to no capital. To learn more or sign up for a free course, visit inmatestoentrepreneurs.org. 
About Inmates to Entrepreneurs 
Inmates to Entrepreneurs assists people with criminal records in starting their own businesses. The organization's goal is to reduce the rate of recidivism in the United States by providing an alternative path to financial stability and success. To learn more, visit https://inmatestoentrepreneurs.org.